What is the Goal in No Limit Texas Hold'em Poker?
Posted on 19 October 2022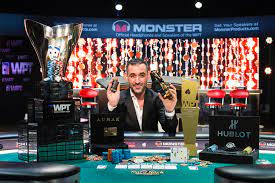 Poker Game: The Ultimate Goal
No matter what type of poker game you play, your ultimate target is to win the pot or prize money by having the best hand among the players. Whether it's Holdem or Omaha, you have the same goal. If, in case, you are playing only for fun, then that's another story. In essence, your main target is to defeat the other players competing against you, with or without anything at stake.
But, you need to know that when you play this game, winning isn't always about being the last man seated on the table (when talking about tourneys). Depending on what event you play in, there are a number of ways to win a poker game. Let's talk more about that below.
Cash Game vs. Tournament
There are two main kinds of poker games you can play - cash or tournament style.
As a non-player, you might easily wonder what is the difference between them since they both give you the chance to win real money. In cash games, you can join the table anytime as long as there is an empty seat. Not only that, you are also free to stand up and quit whenever you feel like it. You can also buy-in or top up whenever you want. However, in tournaments, you have to be there at the beginning of the round until you get eliminated. You buy-in a certain amount of times and you fight for your tournament life. That's why sometimes tourneys are harder to play because you don't have that flexibility to just rebuy and continue playing.
This is why these two kinds of games differ despite having the same goal of winning. When you play cash games, you can still be considered a winner even if you left the game early on. Why? Since your goal here is only to go home with more money/chips than the amount you bought in with. On the other hand, tournaments don't work that way. You will only win if you're "in the money", or happen to be the last man seated on the table. Speaking of tourneys. In case you didn't know, the World Series of Poker (WSOP) is the most prestigious event in the poker world (held in Las Vegas, Nevada).
This year's Main Event champion was Espen Jorstad from Norway. He bought-in with $10K, outlasted 8,662 other players, and took home $10 million dollars grand prize! How great is that? This is possible for any player who studies and constantly improves in this game. (Solve for Why has great MTT and cash game training tutorials.)
Conclusion
If you plan on winning the tournament, you have to make sure you have the best hand, or at least make them believe that you do until the event is over. This way, you can claim the pot. While there are some people who "luck" their way to the top 10 (it happens rarely), it's important to constantly study and improve to increase your chances of being a long term winning player. For those of you who don't want to spend several hours or days playing a tournament, then you'd most likely prefer cash games where you can get up anytime and still win.
The bottomline is, regardless of how you win, you still have the same objective of increasing your wealth or bankroll in the end, especially if you are a pro poker player. Remember, nobody plays poker to intentionally lose money.